Here are the promised pics of the Baby Shower gifts. The women who came were so kind to Aybra.
And some pics of the boys
Kaia learning how to do a back walkover
Alo asleep on his new "bed"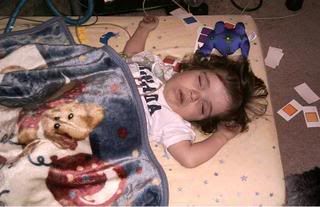 And an Aybra fluffy booty pic (Alpha Omega One Size Diaper)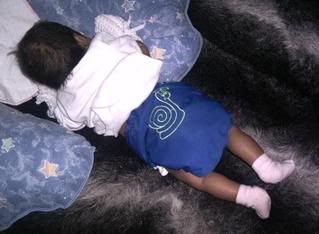 Aybra is now 3180 grams (roughly 6# 15oz) and still transitioning to the breast. She is taking most of her feeds by the breast but still taking some fortified (with skimmed breastmilk) bottles. Aybra had an appt today but we had transportation issues so I had to cancel it.
I never gave an Alo update (that I remember) but at his most recent appt he was taken off of two of his meds (CELEBRATE!!) and was given the go ahead to sprint during his naps. He was pretty much doing that anyway. Here is to hoping that he will gain lots of weight and be able to sprint more.
Kaia is just typical Kaia. His birthday is this Friday. He will be 4! It is so hard to imagine him being 4. Im hoping to get together with some kids from the ward and let him play with them and get to know them better. He played with one the other day and had a blast.