Im sitting here about to update while MSNBC is on the TV in the background.. Its some show about people in prison. The boys are SUPPOSED to be going to sleep but they are playing... The TV shows this guy with a lot of tattoos and Kaia starts giggling and says "Look bubby... Thats gross. He has a lot of tattoos"
So.. for the update.
Last night little Miss weighed 1510! That is Alos birthweight. Tonight she was 1540. Woohoo Aybra! She didnt really have many changes yesterday. Today they started feeding her through TPT again :( Apparently she started having some feeding intolerances. Her flow was down to 3/4 and now at 1/2 and they are trying to go down even farther. She seems to be tolerating it well.
The other night I asked them how much breastmilk I had up there. I am not taking any milk to her. I only leave what I pump at the hospital. Everything I pump at home stays at home. Alo gets about 40 ounces per day. Im freezing 20-40 ounces per day.. Everything that Im freezing is being donated. I have a good enough supply (obviously to be freezing that much every day) that I dont need and I dont have the room for it.... Back to my point.. I was asking them how much milk I had up there.. Because when she comes home I will have to make room for it.. There was 180 bottles.. Its probably over 200 now. Im never going to be able to find room for all of that!!! It would be nice if I could just donate it to the hospital. There are a lot of babies up there that dont have enough milk and have to use formula and it makes me sad for them and their parents :(
Tonight I got to give her a bath and she slept through it. The nurse was holding her up in the little plastic bucket. It was so cute but I couldnt get a picture since only the two of us were in there. I did get a few other pictures though... And our very first family picture.
Nevermind you cant really see her all that well but the room is TINY!!! (Didnt have much room to really take the picture)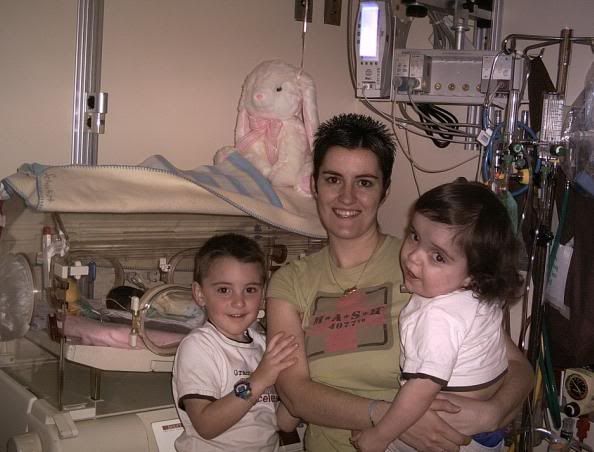 What goes best with cookies?
Milk, of course!!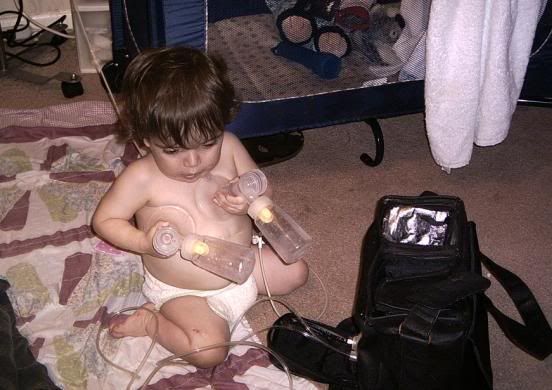 And a big Thank You! To Alison for the adorable longies.