Feeds are still 28 ml... Still 2 on one off. They are fortifying now though.. a whole 1 extra calorie per ounce.
Ive been waiting for her to have her eye exam.. I swear I thought it was scheduled for the end of May.. Turns out it was the end of April.. So she had it on the 30th.. Just so happens to be the same day Alo had his appt... They never told me she had it.. So today I receieve a letter in the mail stating that she is being observed for ROP and a whole bunch of other stuff. The way the letter read was that she had it so I called furious to the hospital asking them if she indeed does hav it and why I was never informed that she even had the eye exam.. When I ask them "Has anything changed today" I expect to hear EVERY SINGLE ORDER... and EVERY SINGLE CHANGE... even the slightest one... I think an eye exam is pretty important... Nobody told me any results, good or bad from the first one.. I am NOT happy right now..
She is requiring a lot of sedation.. They changed it from IV to PO today... She is still kind of getting used to the switch.. As soon as the sedation starts wearing off she starts acting up.
They were able to remove her IV today so now all she has is one PICC line.
She looked so cute today all dressed up but I couldnt find my camera before I left so I didnt get any pictures :( I did get some of last night though.. Oh and the hospital took a picture of her today and made her another little scrapbook page. Its cute. Ill get a picture of it later (found my camera when I got home)..
So here are the pictures that was on it..
A picture of her vent settings from last night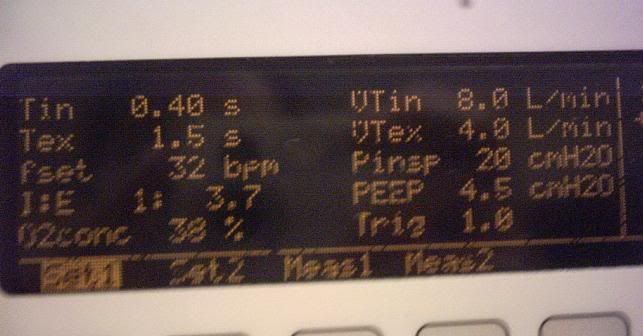 A picture of her from last night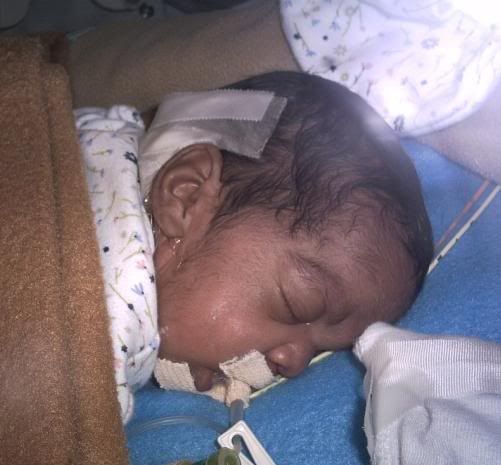 Kaia wanting to read a bedtime story last night..
Kaia and Nanny at the hospital last night
Alo last night waiting on Verda (his nurse)... with the worlds worst snappi job EVER (Green Earth Textile Indian Unbleached Infant Prefold trifolded inside a Gerber prefold) And look at his hair!!
And I dont remember sharing this one.. Alo in the pumproom with me the other day